India Pale Ale (IPA) – the Beer of the Empire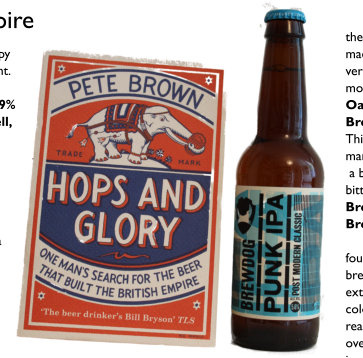 Back in the nineteenth century beer was exported to India for consumption by British troops. Prior to refrigeration it was not possible to brew beers in hot countries so barrels of strong heavily hopped beers brewed in Burton on Trent were exported to India. The extra alcohol and hops helped preserve these beers during the lengthy sea voyage to the Indian Empire. The term IPA came to denote a stronger, hoppier bitter beer.
With the revival of craft brewing in Britain from the 1970's onward more breweries became interested in restoring this style of beer. At the same time in America small craft breweries began producing extreme versions of IPA which were very high in alcohol and very heavily hopped. If you like bitter but perhaps hanker for something a little stronger and more flavoursome than the lower alcohol session beers then IPA could be the drink for you. I have been around our local supermarkets and have rounded up a few IPAs which you may wish to try at home (or in your local pub). Expect to pay from £2 - £2.50 for a 500 ml bottle.
Fullers Bengal Lancer. 5.3% 500ml Brewed in London
Fullers took over the much loved Horndean Breweries in 2005. This is a bottle conditioned, pale, golden tinged ale with a floral aroma and a yeasty, hoppy taste. Also available on draught.
Thornbridge Jaipur IPA 5.9% 500 ml. Brewed in Bakewell, Derbyshire
This is an unpasteurised and unfiltered beer brewed by the innovative Thornbridge Brewery who opened in 2005 and now brew over 20 different types of beer. It has a distinctly citrus taste and is very hoppy. A refreshing beer which is long on the palate.
Marston's Old Empire IPA 5.7% Brewed in Burton on Trent
Marston's are one of Britain's biggest independent breweries having acquired many local brewers in recent years. This is a more conventional tasting bitter which is not so heavily hopped. A very fine spicy, floral balanced taste.
St Peter's Indian Pale Ale 5.5% 500 ml Brewed in Bungay, Suffolk
This brewery, founded in 1996 now exports almost half of its production. Its distinctive flask shaped bottles help it stand out on the supermarket shelves. It has a well rounded taste and is not as heavily hopped as some IPAs.
Shepherd Neame India Pale Ale (6.1%) 500 ml Brewed in Faversham, Kent
This brewery goes back to the seventeeth century. This is maltier in taste than many IPAs and has a full flavour. I felt this was more like an Old/Strong ale in taste.
Goose Island IPA. (5.9%) 355 ml Brewed in Chicago, USA This American take on the traditional British IPA is one of the beers that started the craft beer revolution in the USA. It is made with 4 different types of hops and has a very citrusy, bitter taste, much more so than most British IPA's.
Oakleaf Brewery, IPA. (5.5%) 500 ml Brewed in Gosport
This cloudy, golden beer has a dry, bitter marmalade, citrus and aniseed taste. It is a bottle conditioned beer which is very bitter in the American heavily hopped style.
Brewdog Punk IPA (5.6%) 330 ml Brewed in Ellon, Scotland
This innovative Scottish brewery was founded in 2007 and has shaken up the brewing establishment with its challenging, extreme beers. This drink is light golden in colour with a powerful grapefruit aroma. It really is heavily hopped and has an overwhelming citrus/tropical fruit taste. This is a beer you either love or hate. No half measures with Brewdog beers.
Many breweries offer an IPA so do try this style next time you go out for a drink or select a few bottles of IPA when you are in the supermarket or off licence.
If you are looking for a good read then I can recommend "Hops and Glory" by Pete Brown. Pan Books 2009 £7.99. This is part history book and part travelogue. The author discovers the history of IPA and attempts to travel to India accompanied by a barrel of IPA beer. It is an amusing and informative book which any beer lover would enjoy.
By:
David Harris, Member of the British Guild of Beer Writers