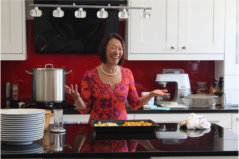 Postcode readers really look forward to perusing the Food Fiend Experience column with its tempting recipes provided by Kathy Fitchett who has been contributing to the paper for the last 3 years. However, there is a lot more to Food Fiend Experience than recipes and a cookery school. Kathy is seeking to develop the corporate side of her business by offering to host team-building cookery events to staff of major companies. "Creating a meal together can be a great team-building experience", Kathy told me, "everyone is working together to create a common objective – just like you want to achieve in the workplace".
Kathy also hosts, what is probably the most exclusive dinner ticket in town, her own private dining club. For businesses who want a unique culinary experience, with absolute discretion and privacy, Kathy can provide top end dining at her beautiful home. Several of Havant's major employers and public figures can testify to the delights of cuisine a la Kathy.
Small businesses are also able to enjoy Kathy's hospitality at the regular networking events which she hosts. Typically, a group of up to 12 local self-employed people will meet to listen to a guest speaker talk on a topic such as marketing and then enjoy a sumptuous buffet lunch. "Being self-employed can be an isolating experience", Kathy confided, "I think it is so important to network with other small businesses, not just to try to gain business, but to share experiences and support each other". Kathy attends many networking groups and recommends small businesses to get out more and connect with other enterprises.
It is nearly 3 years since Kathy started her Hayling Island business but she is never complacent about success. "I want to keep on building my business and in particular work with local colleges and major employers" she told me "I have a unique business and want to bring more people together, through the medium of cookery and fine dining, to enable them to do better business together." Success is something that Kathy has achieved through gaining a coveted 5 star rating with Trip Advisor. She has also been nominated for various business awards.
Kathy moved to Hayling some three years ago with the idea of running a business from her home which would embrace her love of cooking. Her core business is still the teaching of cookery through hands on experience and demonstrations to a variety of individuals and groups. Kathy has a beautiful home with a huge demonstration kitchen and dining facilities which can accommodate up to 24 covers. She specialises in Asian fusion cookery and vegetarian dishes but is able to cover all cuisines.
By:
David Harris, Freelance writer