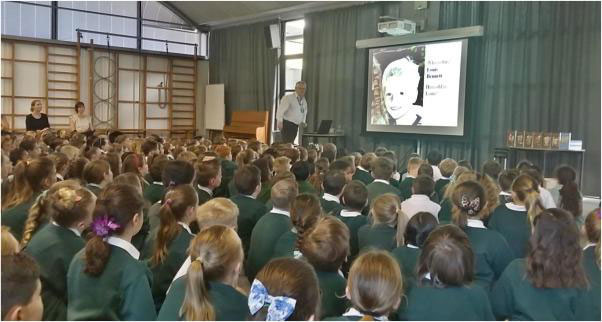 Children at Queen's Inclosure Primary School, Waterlooville, were treated to a visit from popular author Jack Trelawny on Tuesday 21st April. Younger readers may be familiar with His Kernowland in Erthwurld series or may have enjoyed The Emperor's Rhinoceros, the first in his latest series of adventures, inspired by a joint BBC and British Museum Project , 'A History of the World in 100 Objects.'
Following an entertaining assembly, in which pupils were shown how to find ideas for writing and had an opportunity to ask questions, the children met the author and had their books signed personally. Headteacher Mrs Allen said:" The school is always looking for ways to stimulate and inspire its learners".
Further information about Queen's Inclosure Primary School can be found by visiting www.queensinclosure.hants.sch.uk or telephoning 023 9226 8067.