Hello, it's me Giggles again, the Out and Abouter reporter for the Cat and Rabbit Rescue Centre. I woke up very early this morning and could hear snuffling noises. Better go and see where it's coming from I thought…. so I squeezed my tummy under the hedge and there in front of me were two of the most beautiful white ponies that you ever did see. They looked very pleased to see me and soon told me that their names were Holly and Daisy. They said that our boss had rescued them and was going to take care of them, like she cares for us. Great! I will be able to creep into the stables in the winter and get some warmth from them. I now want to tell you about something that has made me so very angry! Last week my staff had a phone call from Bunn Leisure in Selsey to say they had heard a noise coming from the waste skip, and when they looked inside they found a weeny kitten in a paper bag. How disgusting is that?! I wonder if whoever put him in there sleeps at nights…. I hope not. My staff are now caring for the little one and we have called him Bilbo Baggins. He has had a big shock so now he is getting lots of love and cuddles. Next time I will tell you how he's doing.
If you are interested in adopting a cat, kitten, rabbit or guinea pig then please call us at the centre on 01243 641409.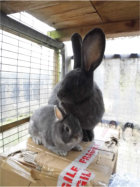 Big Tasty & Mini Fillet
We are delighted to introduce our lovely pair of bunnies, Big Tasty and Mini Fillet. Big Tasty is a giant grey female and Mini Fillet is a dwarf grey male. They are both 18 months old and as much as they look like an odd couple, they really do adore each other. They arrived with us here at the centre on the 25th March 2015 due to their owner no longer being able to look after them. Big Tasty and Mini Fillet are a really friendly pair and like to be handled. Due to the size of Big Tasty, they would love to be re-homed to somebody that has a nice big space for them to run around in and stretch their legs. If you think you can provide these two gorgeous bunnies with their forever home then please do not hesitate to contact us.