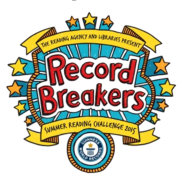 Are you beween 4-11 years old? Want something to do in the summer holidays? Why not go down to your local library? Children are encouraged to read six or more library books of their choice during the summer holidays with incentives and rewards to collect along the way, plus a certificate and medal for every child who completes the Challenge. Children can sign up at their local library In Hampshire between 11th July and 12th Sept... and it is absolutely free.
Every year there is a new theme and this year the Summer Reading Challenge has teamed up with Guinness World Records - the global authority in record-breaking achievements and publisher of the annual Guinness World Records ™book – to establish a "Record Breakers" themed Challenge. Record Breakers brings together fact and fiction, challenging young readers to explore astonishing real-life achievements and world records.
Collecting stickers as they go, young readers will discover the weird, wonderful and wacky records from around the world. Could you be a Record Breakers medal winner this summer?