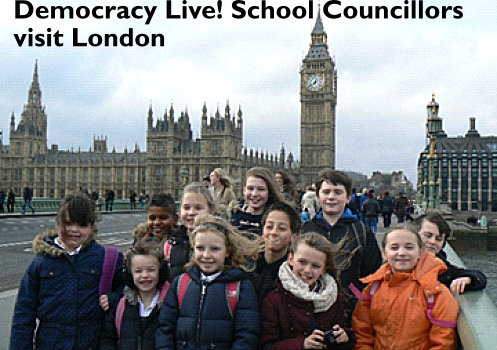 School Councillors from Mill Rythe Junior School had an exciting day out in London when they visited the Houses of Parliament. This is Oscar's account of the day. Our fun day started when we boarded the minibus and set out for London. Luckily no-one was sick on the journey, on the bright side we all shared sweets! We were all excited because we were going to the Houses of Parliament, who knows we might even see David Cameron, the Prime Minister.
When we arrived we had a perfect view of the London Eye and then we went to the Southbank Centre. There was a children's festival going so, so we started with a go at flamingo croquet and it was hard! Then we listened to 2 choirs and one musical group - they were good but our school could do better! After we did that we went to an adventure playground and as we were walking we saw a statue of Nelson Mandela-it was huge.
Next we had a long walk and crossed Westminster Bridge with a fantastic view of Parliament and the river Thames. After we went through the security checks, we met our guide in Westminster Hall, which is over 1,000 years old. Parliament is also called the Palace of Westminster. After a quick video we started out on our tour.
We visited lots of places in the House of Commons and the House of Lords. When we went into the House of Lords we saw the Queen's golden throne; every year the queen visits the Lords and makes a speech from that throne. The leather seats are luscious scarlet, but visitors must not sit down. People in the Lords are not elected; they are life peers, law lords, bishops or hereditary peers, which means they have inherited their title. Most life peers are chosen because of the work they have done, for example Lord Coe, who was an Olympic runner.
The benches in the Houses of Commons are green. This is where our Members of Parliament (MPs) meet to debate and make new laws. There are 646 MPs altogether, but there is not enough room for all of them to sit in the Commons at one time. MPs divide their time between Westminster and the area they represent. Our local MP is Alan Mak and he represents Hayling Island and Havant areas.
We had an amazing day in London and learnt so much, and we hope our school does this again.