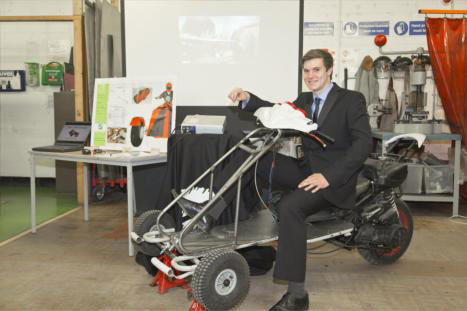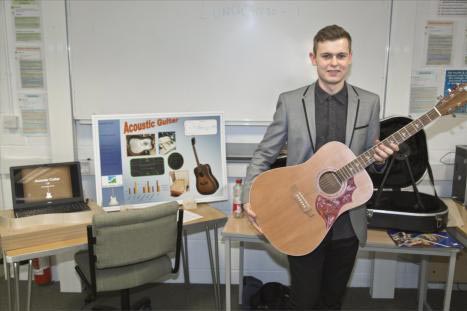 The next generation of engineers showcase their unique projects to potential employers
Every year BTEC Level 3 Extended Diploma and HNC Engineering students have the opportunity to showcase their final year projects. This year's displays included an Acoustic Guitar, Conveyor Rejection System, and a GoPro Quadcopter.
The final year project requires students to independently manage a project where they either research and undertake the manufacture of a small project or research and undertake practical learning of a manufacture process. The Project Day consisted of formal presentations where the students were able to describe the entire process of creating their project to lecturers, students, parents and representatives from engineering companies.
The day was a fantastic opportunity for them to apply what they had learnt in the classroom and develop their project management skills.
Mike Punt, Head of Engineering at South Downs College, said: 'The day is all about a celebration of engineering and we are really proud of the students' hard work. Overall, it has been a very successful day.'
John Thornhill, General Manager of Seals at Wärtsilä UK Limited, said: 'From walking round today, I have seen a lot of diverse topics being demonstrated from the electrical/electronic work to the heavier engineering work and the students have shown a diverse range of skills.'
The day was a huge success with many positive comments from engineering students. Nathan Gurd, Level 3 Extended Diploma in Mechanical Engineering student, said: 'This course has helped improve my project and time management and I will use these skills in my day-to-day work. You are selfmotivated throughout the course, so it's been difficult but the tutors give you all the support you need. I have really enjoyed it.'
Bobby Letzer, Level 3 Extended Diploma in Engineering student, said: 'The skills I have learnt have been very helpful to support me in progressing to an apprenticeship with an engineering company. It has been a challenging course but I have enjoyed it!'
The Project Day help South Downs College Engineering students gain useful insights into the industry and many have applied, or aim to apply, for full-time positions with the employers that they met on the day