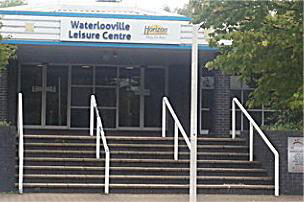 Horizon's Waterlooville Leisure Centre has undergone an exciting transformation that now has an amazing new gym, indoor play centre and cafe. The new facilities run by the charity, Horizon Leisure Centres provide a range of activities for all the family to get active to make life better.
The brand new two-storey air-conditioned gym and exercise studio is the first facilities to open at Waterlooville Leisure Centre on Monday 15th June. The fantastic new gym contains over 150 piece of state-of-the-art equipment to enable people to improve their health and fitness levels with helpful instructors to guide individuals through their fitness journey to reach their personal goals.
The cardio-vascular area has treadmills, stationary bicycles, rowers, cross trainers and exciting new Power Mills - an everlasting staircase to fitness. Resistance equipment covers every muscle group in the body which can be accompanied by a great selection of free-weight machines and weights alongside a functional training area that guarantees fitness fun.
The large new air-conditioned exercise studio means there will be bigger and a wider range of group fitness classes. With over 40 classes a week at Waterlooville Leisure Centre with pay as you options making the classes accessible for everyone.
Horizon World of Play, is an indoor play centre that opens on 6th July 2015. It offers a unique fun and educational experience for children. It is an adventure with an 'around the world' theme that starts in reception through to the Horizon World of Play departures lounge. Once checked in children can travel around the world visiting a range of countries including UK, USA, Italy, Australia and Antarctica.
Each country has a range of exciting special features that children can play on whilst learning about famous landmarks and places. Children can surf in Australia; find their way around a busy Oxford Circus in London; see the Leaning Tower of Pizza in Italy; climb the Statue of Liberty in New York or slide down the icy slides in Antarctica with penguin friends.
Horizon World of Play contains three new themed party rooms UK, Australia and USA. Not forgetting the adults, the new play centre will also offer a comfortable seating area for adults to relax as the children are on their world adventure.
Horizon Café is due to open shortly offering hot food, light lunches, children's meals, snacks and refreshments. Situated in the heart of the building families and friends can meet before and after activities. The cafe will be able to cater for children's parties enabling the Waterlooville Leisure Centre to offer full children's swim and Horizon World of Play party packages.