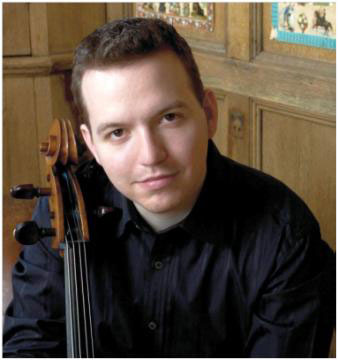 Born and bred in Waterlooville and now an international star of the cello, Richard Harwood will perform at a concert on July 11th at Oaklands Catholic School. Accompanying Richard will be the Havant Symphony Orchestra under their Musical Director Jonathan Butcher. Richard has been performing concertos with the Havant Orchestras since he was a schoolboy and still manages to fit the occasional return visit to Waterlooville into his very busy schedule! In addition to his solo performances, Richard has recently been on an international tour with the Sitkovetsky Trio and is also Principal Cellist of the John Wilson Orchestra, famous for their performances of music from the great Hollywood musicals. On this visit he will play the dramatic and beautiful concerto by Dvorak. This is one of the best known works for solo cello and orchestra and shows off both the lyrical and virtuosic capabilities of the cello to stunning effect.
The Orchestra will also play two pieces of Russian music from the twentieth century. Beginning the concert in light-hearted mood, Kabalevsky's Overture Colas Breugnon takes a French folk tale as its inspiration. The full opera is based in 18th Century Burgundy and is the story of a love triangle involving the sculptor, Colas, and his eventual playing of a trick on the local Duke by creating a statue of him in full armour sitting backwards on a donkey... I guess you had to be there, but the Overture is full of fun and jazzy rhythms and cannot fail to entertain!
The concert concludes with the Symphony no. 5 by Shostakovich. This was written in 1937 as 'a Soviet artist's creative response to justified criticism' after the composer had experienced a period of extreme difficulty with the Soviet authorities. The Symphony contains many haunting melodies and uses some extra instruments to supplement the standard orchestra – listen out for the piano, harp and celesta as well as a large percussion section! The final climax to the work is somewhat of an enigma – is it really a triumphant march or a parody of one? See what you think...
The concert starts at 7.30pm and full information about tickets can be found on the Havant Orchestras' website at www.havantorchestras.hampshire.org.uk