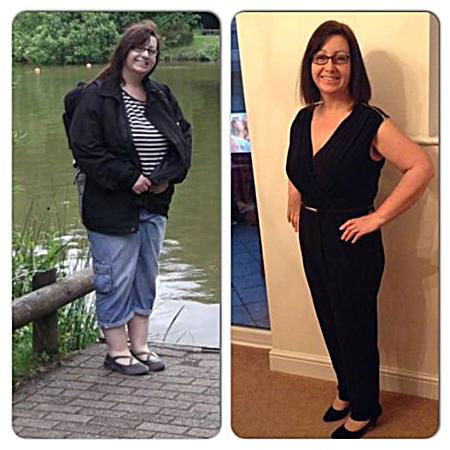 Local mum, Jan has a spring back in her step after losing over 3 and a half stone in 10 months. Having struggled with her weight for most of her adult life, the pounds really piled on when she was left trying to cope with the stress of redundancy and then a sudden bereavement. Jan says 'Not only was I feeling very down and isolated but carrying all that excess weight around was putting an enormous strain on my joints. It got to the point where I would be in agony after carrying out everyday activities like gardening or walking the dog'.
Jan had always felt that tackling her weight issues was something she would have to do alone but that was before she walked through the door of her local Slimming World Group. 'I must admit I was very nervous when I made the decision to go that first night but I should never have worried because I received such a warm, friendly welcome. I left knowing that I had finally found all the support I needed and that I would never see that weight on the scales again.'
'It was amazing to be able to eat all my favourite foods like tasty curries with lots of rice and piles of pasta with delicious sauces and see the pounds melt away. I have a big appetite but I can honestly say that I never felt hungry or deprived'. 'Of course there's always the odd week when you might put on a pound or two or things haven't gone quite to plan but I was never made to feel uncomfortable or embarrassed. You are never judged, you just get all the help you need to get back on track and leave feeling ready to continue on your weight loss journey.'
Before long Jan was able to move about easily without fear of the pain and stiffness in her knees and hips that she'd endured for years. 'I can't believe the difference losing weight has made to how I feel. I am so happy and positive and literally really do have a spring back in my step again. I also realise that I really couldn't have done it on my own. I value the support that my consultant and group gave me so much that I decided that I would like to offer that support to people wanting to change their lives too'.
Jan has trained to become a consultant and now she wants to offer a warm, friendly welcome at her new Slimming World Group at The Cornerstone, Mead End Road, Denmead.