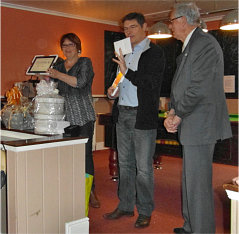 A party of 30 friends from our twin town of Gorron, Mayenne, arrived for our 17th annual exchange, over the Mayday weekend. Thanks to the Pike family, a superb English breakfast was cooked and hosted at Northney Tea rooms on their arrival after a Thursday night crossing. This was a much appreciated venue where host families were ready to meet both old friends and new twinners - for some it was a first visit to England!
It is customary to include a cultural visit in our exchanges and venues chosen were the Havant Historic Trail, The Havant Brewery and Hayling Seafront and funfair, which proved very popular with the French children of 4 and 5 years old. Included on the Saturday was a visit to Southampton to the Museum of the Sea followed by a visit to an Art Gallery and a venture into West Quay shopping centre which was the highlight of the weekend and provided much interest and discussion amongst the group. In the evening, a total of 60 of us from both twinning groups relaxed together at a banquet at the Piranha Bar on our last night together. A fantastic meal of seafood, roast dinner and finishing with Eton mess, was a wonderful way to enjoy the company of such a special association.
On the Sunday morning we all met at The Hayling Billy where presentations were made at a farewell buffet. The Mayor of Havant was represented by Leah Turner who presented the Mayor of Gorron, Jean Marc Allain, with a gift from Havant BC. Everyone was delighted as Wally Taylor, President of the Hayling Island Community Centre was presented with money from the town of Gorron by Jean Marc Allain, and an additional amount from the Gorron Twinning association was presented by their President, Catherine Duchemin. Both sums of money were given for bricks in support of the Community Centre extension project. Wally thanked them both and then presented them with two framed certificates.
The Twinning group then headed off to the Ferry port and we heard later that they had arrived back in France safely after a calm crossing.