2015 marks the 200th anniversary of the battle of Waterloo and celebrations have been planned around the country to mark this milestone in British history which ended 20 years of conflict. Waterlooville has a special reason for commemorating this event, not only to celebrate the battle but to acknowledge the beginnings of the town as we know it today.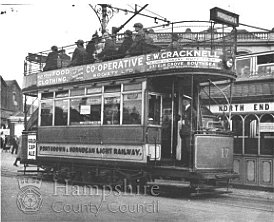 After the Enclosure Act of 1810, parcels of land were sold off and one of these was bought by Charles Matthews. At this time there were only a handful of houses in the area and Mr Matthews set up an inn in the area known as Wheat Lane End which was south of the crossroads. It was reputed that soldiers returning from the Battle of Waterloo rested at the inn and on hearing it had no name decided to call it the Heroes of Waterloo. By 1816 the area was known as Waterloo and by 1851, Ville had been added to the name.
After receiving support from the Heritage Lottery Grant, Waterlooville has now be commemorating and celebrating its historic roots. Many local residents, community groups and schools have been getting involved in researching and recording the history of the town and helping at events.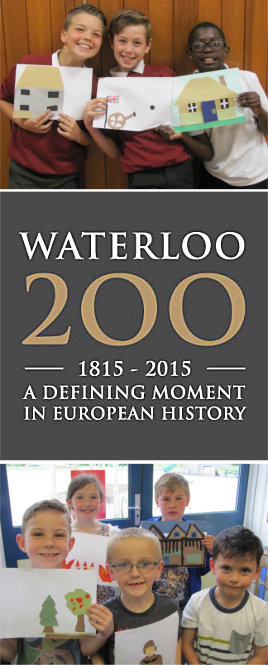 Busy work has been going on in local schools and groups. Young people from across the area have been entering a competition to design the new town flag. Lovely work has been produced and the judges are going to have a really hard time picking a winner! The winning design will be raised up the new flag pole on Saturday 20th June as part of the Waterlooville 200 Day.
Artists and Historians have also been visiting Padnell Infant School, Purbrook Junior School, Berewood Primary School and Hart Plain Junior School creating with the eager participants a timeline of Waterlooville's history. Ten pop up banners will be designed from the school children's work and these will be available for exhibitions and school projects. The finished designs will be shown as part of the Waterlooville 200 festivities at Waitrose and Waterlooville Library. The Rachel Madocks School, Green Meadows Residential Home and local Scouts and Brownies are helping with the creation of 8 regimental banners which will be used in the parade. Lots of colourful designs and prints are being made on these celebration artworks.
There are many interesting and inspiring talks and activities going on including the Winton Players from Petersfield performing their specially written play 'A Damn'd Close-Run Thing!" and many talks about the Battle of Waterloo and Waterlooville's local history.
As part of the finale to the project there will be a commemorative plaque being unveiled in Waterlooville Precinct at 10am on Thursday 18th June and on Saturday 20th June there will be Waterlooville 200 Day, a day filled with activities, music and performance.