Katherine Colley a 17 year old Barratt Homes apprentice from Waterlooville was honoured for her achievements at the Women in Construction Awards.
Katherine was named Best Apprentice Under 25 in the prestigious awards which showcase the brightest and best female achievers in the housebuilding and wider construction industries.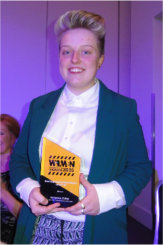 Katherine is one of Barratt's rising stars and has dreamed of being a carpenter since the age of seven. "Women may still be in the minority in the construction industry but I was up against some tough competition so to win is just amazing,'' said Katherine.
"I've have such great support from so many people already in my career from my woodworking teacher through to Barratt's community liaison manager Anthony Dimmick who has mentored me every step of the way.''
In addition to her work on site, Katherine is also part of the Aspire team in Southampton – a group of individuals who are dedicated to inspiring the next generation of construction staff.
Katherine visits schools and colleges where she talks about her experiences and the opportunities open to women in the construction industry.
Anthony Dimmick says that Katherine was a deserved winner of the Women in Construction Award and is the perfect ambassador for the company.