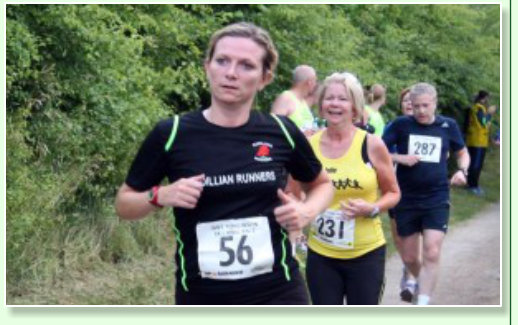 Parkrun uk organises free, weekly, 5km timed runs around the world. Park runs are free, open to everyone and are safe and easy to take part in.
These events take place in pleasant parkland surroundings and encourage people of every ability to take part; from those taking their first steps in running to Olympians; from juniors to those with more years or experience; all are welcome
Parkrun aims to have an event in every community that wants one, wherever they are. There is already a Havant parkrun. It takes place weekly and it is free. Havant parkrun is a 5km run - it's you against the clock. When is it? It is every Saturday at 9:00am. Where is it? It's run in Staunton Country Park, Middle Park Way, Havant, PO9 5HB. See Course Page for more details.
It costs nothing to join in; it's free! But you must register before your first run. You only register with Parkrun once. You can register at: www.parkrun.org.uk/havant
After that you can join a park run anywhere you wish.
I spoke to Richard Acton who has been an active parkrunner with the Havant parkrun group for more than two years. I asked Richard how he felt about Parkrun. Here is what he said:
"Parkrun is addictive. Once you've been and given it a try you definitely cannot wait until the next one. It's a great way to keep fit. You make new friends and it really does not matter if you are fast or slow. I have done nearly 120 runs since the start of 2013, mostly at Havant. But now I also run at Southsea, Chichester and occasionally Bognor. I love the fact that it is so easy and you get a record of the time of all your runs, wherever they take place"'
I asked Richard about the volunteering side. He said:
"Volunteering is very important to parkrun. As a volunteer, it also gives you a great buzz. Encouraging people as they run past, you find most are really appreciative of the support. I think Parkrun gives you a positive start to the weekend, even if you don't beat your PB (personal best)!"
When you first register you are given a personal barcode. You must then remember to take a copy of your barcode with you whenever you do a parkrun. To ensure you do not forget to take it you can even request a reminder! Should you forget it, you won't get a time! The barcode is used to record for you, each of your run times.
People thinking of joining in often ask "How fast do I have to be?" The answer is that the runs are for your own enjoyment and your personal goals. You can just go along and join in - whatever your pace! You can see a google map of the Havant park run course at Stauntan Park on www.parkrun.or.uk/havant
Havant parkrun is entirely organised by volunteers - email: havanthelpers@parkrun.com if you are interested in helping on that basis.
The Havant parkrunners are friendly.
Readers interested in the idea are invited to join them on any Saturday for a post run coffee at the café in Staunton Country Park. Richard Acton on a Parkrun at Southsea