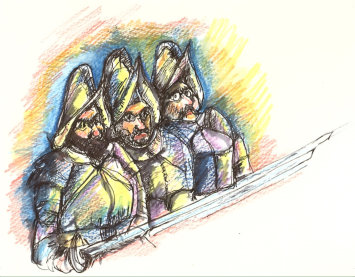 Havant Light Opera will present Princess Ida in July, a zany musical satire about three ridiculous warriors, two fiery kings and a priceless princess principal of a ladies college!
Gilbert & Sullivan's only three act opera, first performed in 1884 is bursting with enduring fun and sprightly music in this mediaeval romp.
Enjoy the thrill of the prince and friends in drag, the haughty intransigence of the beautiful princess, the absurdity of the warriors' striptease, and other timeless delights in this colourful production. Princess Ida was produced between Iolanthe and The Mikado when its creators were at the height of their powers. Many consider the score to be Sullivan at his best, and that Gilbert's libretto contains some of his funniest lines.
Princess Ida will be performed at The Spring Arts & Heritage Centre from Tuesday 30th June to Saturday 4th July at 7.30 pm. Tickets £10 (Children £5) Box Office 023 9247 2700 or online at www.thespring.co.uk
A further performance will be given at St George's Church Waterlooville on Saturday 11th July in aid of The Rowans Hospice. Tickets £8 (Children £4) can be reserved on 07986 462241 or landrover636@gmail.com