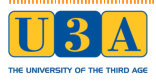 Havant U3A have continued with their regular programme of monthly meetings which have included talks on such diverse subjects as ' The Experiences of an Army Chaplain in the trenches during the 1914/18 Great War' , The Activities of a Town Crier ( With an active demonstration ! ), and 'Weather Lore' by a BBC Weatherman.
On 18th June there will be a talk on 'Plains Indians of North America ' by Susan Dewey who has lived among them. There will then be a break until the AGM on 17th September.
These meetings are held in the Bedhampton Social Hall in Havant on the third Thursday of the month and commence at 2.30pm. At each meeting there is an opportunity to meet and socialise with other Members over a cup of tea or coffee. and prospective new Members are very welcome.
Future activities include a day trip to Mansion House London and the Bank of England as well as visits and activities arranged by the special interest groups.
For those who are not aware of the U3A Movement it is a National Organisation with many local branches. It is aimed at those who are no longer in full time employment yet retain the urge to continue with or develop new interests in a sociable environment.
Further details can be found on the website membership@havantu3a or by phoning 023 9248 6534.